High Street Tracker
Non-fashion -1.8 %
Fashion -2.4 %
Homewares -2.4 %
Non-store +40.2 %
Christmas discounting: the unsustainable saviour
20th Jan 2012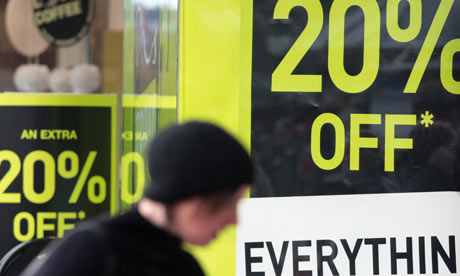 Resilient British shoppers shrugged off fears of yet another economic downturn to take advantage of the myriad of discounts available in the run-up to Christmas in 2011. Retailers across the country are, for the most part, breathing a sigh of relief as their efforts to attract cash-strapped consumers by way of relentless discounting paid off as retail sales volumes rose by 0.6 per cent from the previous month, or 2.6 per cent on the same month the previous year.
The Office for National Statistics, which publishes the figures, said sales of clothing, footwear and petrol had driven the sales boost.
Before this data was released, many economists were predicting that British output had contracted 0.1 per cent in the last three months of 2011 and the first three months of 2012, which would put the country in a mild recession. "The increase in retail sales volumes in December boosts hopes that the economy avoided contraction in the fourth quarter," Howard Archer, the chief UK economist at consultancy IHS Global Insight, told Reuters.
Inevitably, the strong promotional activity that retailers exhibited over the Christmas period led to hits on margins, with many retailers using the sale season to clear inventories in preparation for new stock. The propensity to discount is a double edged sword from a retailer's perspective: do we slash prices to tempt customers but risk a hit on margins, or instead keep them at their current level and alienate a large, cash-strapped portion of the marketplace?
Nonetheless, fears remain that December's sales strength is the exception rather than the rule. 2011 was, by all accounts, a difficult year for many retailers with many well-known high-street brands going into administration before the dawn of the new year. Consumer confidence research carried out by Nationwide revealed that morale was near the lowest in the survey's seven year history last month as shoppers worried about the outlook for 2012, which is hampered by rising unemployed and the euro zone debt crisis. Not only this, a favourable annual comparison with Christmas 2010 also gave retailers' sales figures a boost as heavy snow heavily disrupted trade, therefore making it far easier for retailers to beat expectations.
"This modest spike in sales came at considerable cost to retailers, many of whom started aggressive price promotions as early as November," said James McGregor, director of retail consultancy Retail Remedy. "Many clothing retailers have already been forced into clearance mode to shift unsold stock."
December's retail price deflator – a measure of inflation – slumped to an annual 2.4 per cent from 3.6 per cent in November, the lowest since August 2010 and the biggest one-month drop since October 2008. This is of some comfort to the Bank of England, which is hoping that declining rates of inflation in 2012 will boost household spending and also enable it to continue with its programme of quantitative easing asset purchases.
Some retailers are approaching 2012 with hushed optimism due to lower raw material costs and the Bank of England predicts that inflation will fall sharply from its current level of 4.2 per cent. Of course, the recent swathe of high street casualties cannot be ignored. The retailing industry is volatile as ever with Peacocks falling into administration this past week. 2012 is generally expected to be a tough year and retailers will have to have to pull something more sustainable than promotional activity out of their sleeves if they wish to turn 2012 into the success story that the industry has been missing for so long.
My-Retail Media