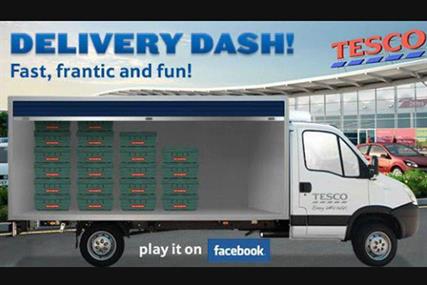 Tesco's new Facebook game 'Delivery Dash'
This week Tesco launched its first game on Facebook, named Delivery Dash. The game requires its players to work against the clock to pack groceries for friends, with increasing levels of difficultly.
Those engaging with Delivery Dash are already reported to be spending an average of 30 minutes playing the game.
David Price, Tesco's head of social media has said the game primarily targets female shoppers and allows Tesco to "have a conversation with customers' beyond a direct 'selling message'".
He told Marketing Magazine that research showed that the average social gamer is 41-year-old woman, "which, he said, 'sits nicely' with the demographic of Tesco shoppers."
The retail giant collaborated with social media agency Yomego to create the new game, after previously working together on another interactive scheme.
Tesco, the UK's grocery leader, has been increasingly implementing new interactive methods to engage with its customers.
Just last week they give Facebook fans the opportunity to vote which items they would like to feature as part of the Big Price Drop Campaign.
---
Related Stories
---
Posted in Consumers, Entertainment, Food, M-Commerce, Retail Industry, Supermarket News, Supermarkets Tagged Tesco, Facebook, Delivery Dash, Game