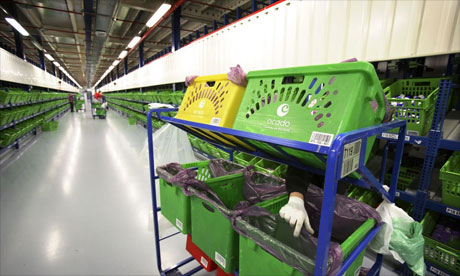 According to research from the company's own broker, Goldman Sachs, the internet grocer will see earnings peak next year and decline in 2013.
Goldman Sachs
analyst Karen Hooi downgraded her earnings-per-share forecast for this year and the next by 40 per cent, and by 50 per cent or above for 2013.
Although the figures will not be welcome news for
Ocado
just weeks before the company updates the City on trading, Hooi said her numbers had been adjusted to reflect "continued capacity concerns."
Ocado was founded by three former Goldman Sachs bankers, and the US investment bank was one of the brokers that floated it last summer. However, concerns have been mounting over the etailer's relationship with
Waitrose
, which this year introduced a new home delivery service for its groceries within the M25, Ocado's most lucrative region.
---
Related Stories
---
Posted in Food Tagged american, bank, battle, broker, etailer, food, goldman sachs, grocer, karen hooi, m25, ocado, online, supermarket, waitrose